Perhaps you've heard that consuming cocoa products can promote optimum health. After all, cocoa products such as cocoa powder and chocolate can contain some cocoa flavanols, a bioactive compound shown to increase your body's natural supply of nitric oxide. What's nitric oxide? It's a supermolecule that allows arteries to relax and widen, promoting healthy blood flow and the delivery of essential oxygen and nutrients to every organ, muscle, and tissue throughout your body.
There can be some confusion about how many cocoa flavanols you need and how many you'll get when you consume certain cocoa products. How many cocoa flavanols a day do you need to consume for health benefits? Scientific studies have shown that you need at least 500 mg daily to support your cardiovascular system and 750 mg daily (over the course of 8-12 weeks) to improve 3 aspects of your memory.
The good news is that getting that many cocoa flavanols daily is easy with CocoaVia™ supplements. Made with cocoa extract, each serving of CocoaVia™ guarantees 500 -750 mg of cocoa flavanols. That's because our proprietary Cocoapro™ extraction process carefully extracts cocoa flavanols from fresh, high-quality cocoa beans, preserving these flavanols in the highest concentration possible.
So how do the cocoa flavanols percentages in CocoaVia™ cocoa extract supplements compare with other cocoa products? Let's explore CocoaVia™ vs. cocoa powder and CocoaVia™ vs. dark chocolate.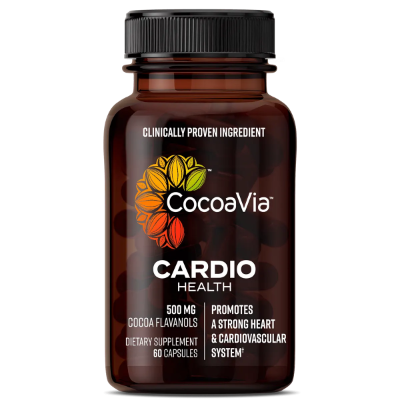 CocoaVia™ 500mg Cardio Health Capsules vs Cocoa Powder
Wondering if the typical cocoa powder you use for baking and smoothies has any cocoa flavanols? It's possible, but not enough to provide you with health benefits. That's because your common cocoa powder is processed using conventional methods that often destroy the fragile cocoa flavanols.
Many cocoa powders claim to be high quality and use terminology like "raw, unprocessed cacao" to suggest that their products have the health benefits you're looking for.
Unfortunately, most of these claims aren't backed up by their actual process. To get 500 mg of cocoa flavanols in your diet, you would need to consume 11 tablespoons of the leading cocoa powder on the market – that's a lot of powder! What's worse is that most cocoa powders contain high levels of contaminants that you really don't want to be consuming daily.
CocoaVia™ 500mg Cardio Health Powder vs. Cocoa Powder and Chocolate
Love coffee or smoothies? Consider how our CocoaVia™ Cardio Health Powder could support your health as you enjoy your morning cup of Joe or afternoon fruit shake. Each serving of our CocoaVia™ Cardio Health Powder contains 500mg of cocoa flavanols – that's 8x the amount in the leading 80% dark chocolate, and 10x the amount in a serving of the leading cocoa powder. *
With only 15 calories and three carbs per serving, Heart & Brain Health Powdered Drink Mix is a smart choice for supporting brain, heart, and total-body health.
*Based on the latest 52-week sales data, Nielsen, April 2019. Nutritional information based on a 30g serving size for chocolate. High-percent cacao chocolate represents a product with >80% cacao.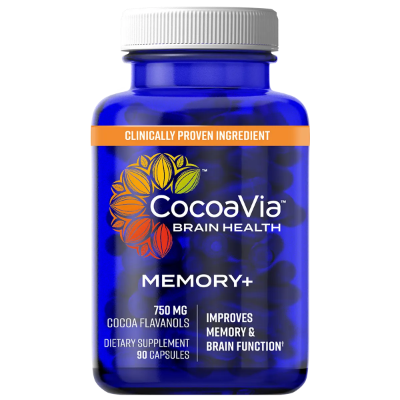 CocoaVia™ Memory+ vs. Cocoa Powder
Can cocoa powder improve your memory?
Maybe, but you'd have to eat a lot of cocoa powder. To get the same level of flavanols in one serving of CocoaVia™ Memory+ you'd have to consume 16 tablespoons of the leading premium cocoa powder!
Each three-capsule serving of CocoaViaTM Memory+ capsules is guaranteed to contain 750 mg of cocoa flavanols.
Three capsules vs. 16 servings? The math - and science is clear - CocoaVia Memory+ is a better choice for supporting brain health.
CocoaVia™ Memory+ vs. Dark Chocolate
Just one serving of Memory+ packs in 750 mg of cocoa flavanols, plus it has zero fat and only 5 calories. You'd have to consume 10 servings of the leading high percentage of dark chocolate* to receive that same amount of cocoa flavanols - at a whopping 1,624 calories and 164 grams of fat.