COCOA FLAVANOL
HEART HEALTH STUDY
Published in the British Journal of Nutrition
Sep 9th 2015
• A leading German University conducted a study to test whether cocoa flavanols could help maintain cardiovascular health in people with no history of heart disease, after previous studies had demonstrated benefits for at-risk populations.
•  Healthy people between the ages of 35 and 60 consumed 450 mg of cocoa flavanols for a month. A similar group of people took a placebo acting as the control group.
• The 2 groups were compared before and after the study to see if taking cocoa flavanols every day had an impact on heart health



26% increase in blood vessel health* when taking 450mg cocoa flavanols daily
Taking 450mg of cocoa flavanols daily helped promote healthy blood pressure levels among study participants
Healthier Cholesterol Levels
Participants also experienced healthy levels of both good cholesterol (HDL) and bad cholesterol (LDL)
Participants who consumed 450 mg of cocoa flavanols daily for 1 month experienced several positive indications of heart health, including healthy blood vessel function and healthy blood pressure and cholesterol levels.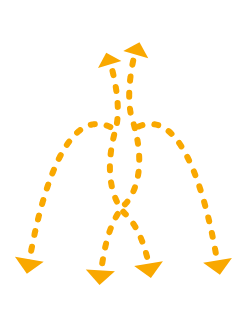 Daily consumption of cocoa flavanols can help promote optimal heart health and keep your entire cardiovascular system strong, supporting both short-term and long-term heart health.
Cocoa flavanol intake improves endothelial function and Framingham Risk Score in healthy men and women: a randomised, controlled, double-masked trial: the Flaviola Health Study
British Journal of Nutrition, Volume 114, Issue 8
Published: 9 September 2015
Abstract:
Cocoa flavanol (CF) intake improves endothelial function in patients with cardiovascular risk factors and disease. We investigated the effects of CF on surrogate markers of cardiovascular health in low risk, healthy, middle-aged individuals without history, signs or symptoms of CVD. In a 1-month, open-label, one-armed pilot study, bi-daily ingestion of 450 mg of CF led to a time-dependent increase in endothelial function (measured as flow-mediated vasodilation (FMD)) that plateaued after 2 weeks. Subsequently, in a randomised, controlled, double-masked, parallel-group dietary intervention trial (Clinicaltrials.gov: NCT01799005), 100 healthy, middle-aged (35-60 years) men and women consumed either the CF-containing drink (450 mg) or a nutrient-matched CF-free control bi-daily for 1 month. The primary end point was FMD. Secondary end points included plasma lipids and blood pressure, thus enabling the calculation of Framingham Risk Scores and pulse wave velocity. At 1 month, CF increased FMD over control by 1·2 % (95 % CI 1·0, 1·4 %). CF decreased systolic and diastolic blood pressure by 4·4 mmHg (95 % CI 7·9, 0·9 mmHg) and 3·9 mmHg (95 % CI 6·7, 0·9 mmHg), pulse wave velocity by 0·4 m/s (95 % CI 0·8, 0·04 m/s), total cholesterol by 0·20 mmol/l (95 % CI 0·39, 0·01 mmol/l) and LDL-cholesterol by 0·17 mmol/l (95 % CI 0·32, 0·02 mmol/l), whereas HDL-cholesterol increased by 0·10 mmol/l (95 % CI 0·04, 0·17 mmol/l). By applying the Framingham Risk Score, CF predicted a significant lowering of 10-year risk for CHD, myocardial infarction, CVD, death from CHD and CVD. In healthy individuals, regular CF intake improved accredited cardiovascular surrogates of cardiovascular risk, demonstrating that dietary flavanols have the potential to maintain cardiovascular health even in low-risk subjects.
Try CocoaVia™ to see for yourself how it can improve your life.

And don't forget, it's covered by the CocoaVia™ money-back guarantee.